Below you can find information about the birding and other flora and fauna on Halmahera. Pictures have been made at Weda Eco Resort, its near surroundings and in the forest of our Sawai Ecotourism Foundation. The Halmahera flora and fauna was one of the main inspirations for Sir Alfred Russel Wallace to develop his theory of the origin of species. The Ivory-breasted Pitta, Nicobar Pigeon, Halmahera Python, Wallace's Standardwing Bird of Paradise, Pitcher plants, Cuscus and the Wallace Golden birdwing butterfly are prominent characters in his famous "the Malay Archipelago".
BIRDWATCHING DETAILS
Weda Reef & Rainforest Resort provides excellent birdwatching on Halmahera. And in great comfort too. From the terrace of your cottage or our open air restaurant you c: an enjoy the sight of hornbills, eagles, cockatoos, parrots, fruit doves and many other winged visitors. A, never complete, list of the birds we spotted you find HERE, and a gallery of bird images HERE. Thank you, Ch'ien Lee for some of the best shots.
After we discovered a lek of the endemic Wallace's Standardwing Bird of Paradise (Semioptera wallacii), we became very anxious to protect it against logging. We succeeded in buying the lek spot and the surrounding forest. Now it is guaranteed the best place in the world to see this Bird of Paradise. A very nice surprise was that the Nicobar Pigeons are living here too. To reach the Bird of Paradise lek it takes 10 minutes by car and 15 minutes walking. Later we found a second lek in another part of the forest and we are very happy we were able to buy that too. Today, our Sawai Ecotourism Foundation is taking care of 900 hectares of primary forest. Our forest has an very good and important neighbor: Aketajawe National Park. This Park is accessible with us.
Video of the Wallace's Standardwing Bird of Paradise.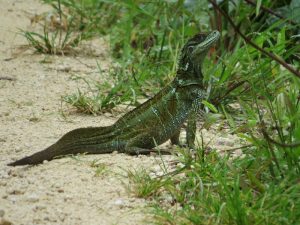 BIRDING TRIPS
Since 2014, we go birding to greater heights too. About 90 minutes driving away (4×4 0nly), between 500 and 1000 meters heights, we spotted Chattering Lorys, the Moluccan King Parrot, Island Leaf-Warbler and Rufous Fantail – and many other birds. In this area you will also find two different species of Pitcher plants, Orchids, Ant-plants and many butterflies.
We offer half-day, full-day and multi-day birding/nature trips, both for individual visitorsand for groups. We are also happy to organize your trips to the nesting beaches of the Moluccan Scrubfowl near Galela, the Buli Pass, Binagara, Foli, Morotai and the Island Rao. Our cars are very well maintained, do not have shaded windscreens and your safety and comfort are the top priorities of our drivers. Our experienced and knowledgeable English speaking guides are keen birders who will help you spotting the birds and assist you in any way.
Our company is legally registered in Weda, Tobelo and at Rao/Morotai and possesses all permits. Our Sawai-Ecotourism Foundation has an official approval from the Ministry of Legal Affairs. The main goals of our Sawai Ecotourism Foundation are Conservation and Education – and the funding for the foundation comes mainly from the birding trips.